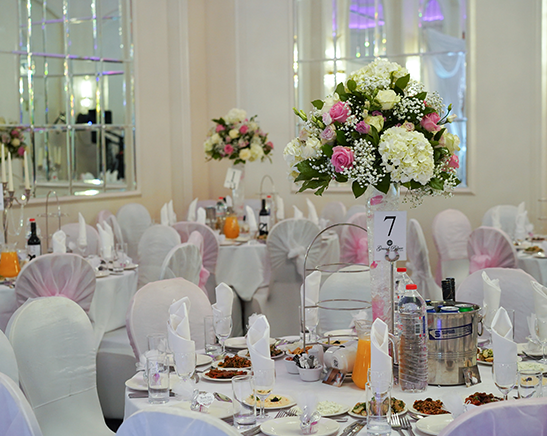 Catering Services at the Grand Palace
Having a reputation for exceptional quality of food, excellent service, knowledge and experience in catering for over 40 years. Also having members of our main team being experienced in advising Michelin star Restaurants worldwide in regards to fine dining, at The Grand Palace we give your guests a splendid experience. Our team are fully qualified and with up to date with food hygiene qualifications and a 5 star Hygenie rating as stated on our local authourities website. We can proudly confirm that we offer our clients a wide selection of menus that can be adapted to your event, which include various options of cuisine to
select from.
Once you have a consultation with one of the members of our events specialist team you would be able discuss menu priorities such as allergies and tolerances and how they would suit within your menus. All your requirements can be discussed as we have set menus you can choose from that range from sitdown to buffet. We also offer Gourmet options for clients whom wish to book that little extra from the norm, ensuring our packages suit all nationalities, functions and budgets to accommodate the individual.
External Catering and Event Management
With our knowledge and experience, our team is also known to take bookings outside of the Grand Palace providing the same standard of service and food quality as it would be in-house. Of which we are recognised and recommended by several venues in the London, Essex & Hertfordshire areas. However we do cover all venues that accept external caterers and that would accommodate our requirements. Every venue our client plans to book would have a site survey done by one of the members of our team confirming facilities are suitable for our requirements to cater on site. In the event of insufficient facilities we then would confirm which facilities would need to be sourced for us to maintain standards, of which may come at an extra cost on top of the external catering standard fees.